Netflix's restrictions on downloading content for offline viewing within their app led to the creation of tools like Kigo Netflix Video Downloader. These best Netflix video downloaders help users bypass limitations, enabling flexible offline Netflix streaming. This review delves into Kigo's effectiveness and introduces an alternative for an improved Netflix video download experience. Just read on to explore!
Feature Overview on Kigo Netflix Video Downloader
This section offers a comprehensive overview of the software's functions and benefits, aiding potential users in their decision-making process. The review will encompass various aspects, such as search capabilities, subtitle and audio options, selections, video quality, and download speed. Let's dive in for a closer look.
Searching (3.5/5)
Kigo Netflix Video Downloader shines with its smart search function, letting users input URLs or video names for accurate offline downloads. While occasional accuracy issues arise, this feature generally offers convenient and efficient results.
Video Quality (4.5/5)
While Netflix offers content in HD, SD, and UHD formats, Kigo Netflix Video Downloader retains this quality with up to 1080p resolution for offline downloads. Users can select quality based on storage, ensuring optimal sizing while maintaining high-quality viewing. This empowers users to download Netflix videos in the best-suited quality for their device and preference.
Subtitle Types(4/5)
Kigo Netflix Video Downloader offers versatile subtitle-saving options, including internal, external, and hardcoded subtitles. Users can effortlessly choose their preferred option before initiating offline saving. Additionally, the tool detects original video languages, enabling users to select the desired language for offline viewing alongside the downloaded Netflix video.
Audio Settings(4/5)
With content spanning 190 countries, Netflix offers diverse languages for a barrier-free experience. Kigo Netflix Video Downloader mirrors this by detecting available audio languages, granting users the freedom to download. Moreover, it preserves 5.1 surround audio quality, ensuring offline playback fidelity remains uncompromised after downloading resources.
Download Efficiency (3/5)
Compared with other best streaming video downloaders, Kigo Netflix Video Downloader swiftly downloads batches of Netflix videos offline simultaneously. This efficient process saves time, especially for multiple lengthy videos needing simultaneous downloading.
Kigo Netflix Video Downloader Pricing
Regrettably, Kigo Netflix Video Downloader isn't free. To download complete Netflix videos for offline viewing, a subscription to its full version is required. While a free trial permits testing the download feature (limited to the first 5 minutes of each video), purchasing the full version involves subscription options:
USD 16.95 per month (auto-renewing)
USD 59.95 annually (auto-renewing)
USD 129.9 for a lifetime license (one-time payment for perpetual access)
Best Alternative to Kigo Netflix Video Downloader
While Kigo Netflix Video Downloader provides dependable Windows/Mac Netflix video downloads, certain drawbacks warrant attention:
The in-built search engine's results might lack precision for keyword searches.
Long-term subscriptions, particularly yearly and lifetime plans, could be costlier.
The download speed may be slow when batch-downloading lengthy movies or TV episodes.
For an affordable alternative with similar or superior features, consider MovPilot Netflix Video Downloader, available for both Windows and Mac. A comparison reveals its excellent performance, possibly even surpassing Kigo's capabilities.
Kigo Netflix Video Downloader
MovPilot Netflix Video Downloader
Pricing
USD 16.95/month
USD 59.95/year
USD 129.9/lifetime
USD 15.95/month (cheaper)
USD 55.95/year (cheaper)
USD 85.95/lifetime (cheaper)
Searching
URL, keywords
URL, keywords (more accurate)
Video Quality
1080p
1080p
Audio Quality
5.1 surround audio
5.1 surround audio
Subtitle/Audio Languages
All detected languages
All detected languages
Subtitle Types
Internal subtitles, external subtitles, and hardcode subtitles
Soft subtitles, external subtitles, and hardcode subtitles
Download Speed
Batch download
(but would be slow sometimes)
Batch download
(stable performance with fast speed)
3-Steps to Use MovPilot Netflix Video Downloader
Step 1. Log in to Netflix with an active Netflix account.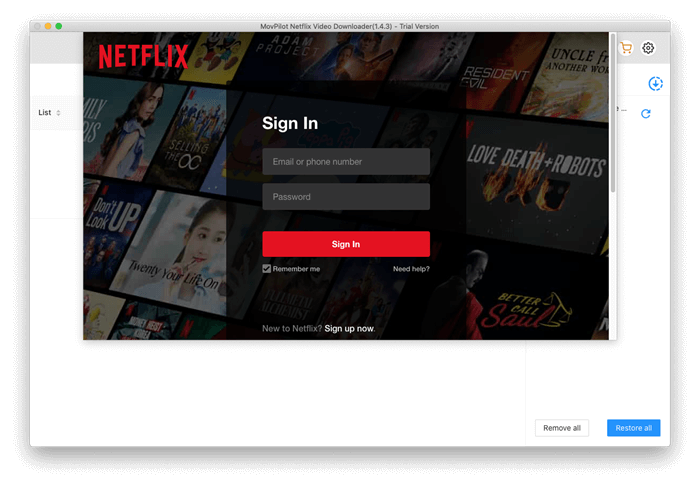 Step 2. Search for desired Netflix videos.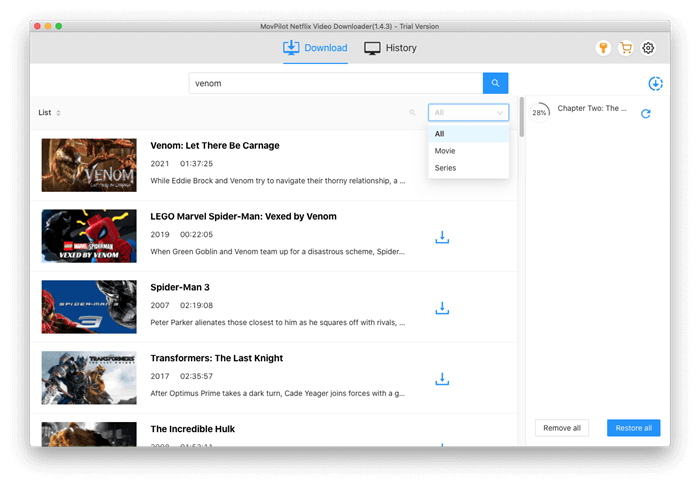 Step 3. Adjust output settings if you need. And start to download Netflix videos offline.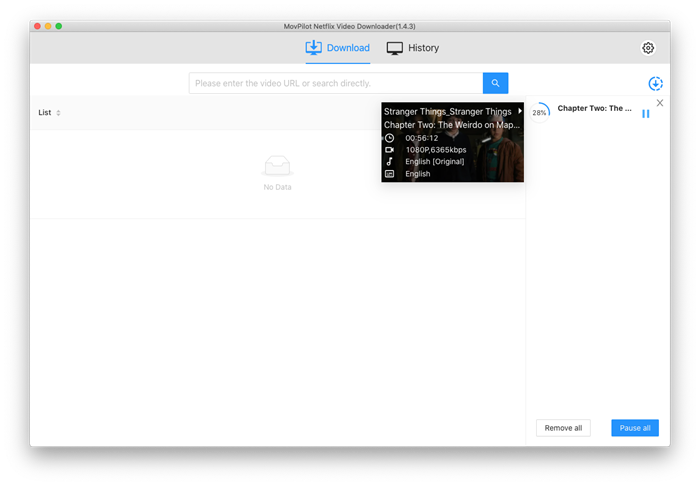 Conclusion
Kigo Netflix Video Downloader offers reliable functions to download Netflix videos, but if you are still wanting another cheaper and more efficient downloading tool, consider MovPilot Netflix Video Downloader as it can bring even better services to you but at a lower price in the long term. Just click the download button below to have a try!