If you use HBO Max for a while, you will easily realize HBO Max's download function limits your offline viewing time to 30 days. Rather than using the HBO Max app, many of you may select an HBO Max video downloader to get rid of the upsetting limitations.
This article will mainly introduce Kigo HBOMax Video Downloader to solve the above problem and realize permanent offline playback for HBO Max videos. Just learn about the details of the Kigo HBOMax Video Downloader and see if it is the one you want.
What Is Kigo HBOMax Video Downloader
Kigo HBOMax Video Downloader is designed by Kigosoft to help you directly search for videos from HBO Max and download them as MP4 or MKV for offline playback. It will unlock the DRM protection and remove all the download limitations brought by HBO Max, such as the fact that each account only supports downloading up to 30 videos, whereas with the downloader you can download any number of videos.
As a result, if you get Kigo HBOMax Video Downloader, you are actually getting over these limitations because the software will directly convert HBO videos to video files in the common MP4 or MKV format.
Then, you can save them to all devices permanently and play them outside the HBO app as freely as you want. With it, all HBO Max videos can be viewed offline, which is more convenient.
Full Features Overview: Kigo HBOMax Video Downloader
What benefits can Kigo HBOMax Video Downloader actually bring? Now, the features of the software will be introduced to you in video format, video quality, subtitles, and audio tracks, etc.
Keep All HBO Max Videos in MP4/MKV Without Expiration
When Kigo HBOMax Video Downloader has provided a built-in browser for you to directly search for all videos to download, you can select any of them to keep as common MP4 or MKV video files offline. By getting the videos saved outside HBO, you won't be limited in time validity or device availability. The video files will not expire either unless you manually delete them.
Save All Subtitles and Audio Tracks for Selecting
The powerful Kigo HBOMax Video Downloader can detect all the subtitles and audio tracks of each HBO Max video and then offer you options to download the videos as you need. You can also select to save the subtitles in three types you need, including internal subtitles, external subtitles, and hardcode subtitles.
Download HBO Videos with HD Quality on Any Device
With the advanced technology applied, Kigo HBOMax Video Downloader can download movies and TV shows from HBO with the best HD 720P quality for saving offline, making sure to have a smooth playback experience after downloading them no matter what device.
By saving the downloaded videos to your smart TVs, mobile phones, or tablets, you can enjoy high-quality streaming using any professional media player that has even been installed.
Remove Ads and Keep All Metadata Information
By downloading videos with Kigo HBOMax Video Downloader, it will remove all the ad breaks in the videos and also help you to save the downloaded with the metadata information such as year, season, date, duration, and so on. With these tags, it would be easy for you to manage the offline library without checking the videos one by one.
How to Use Kigo HBOMax Video Downloader
Kigo HBOMax Video Downloader can easily download HBO Max shows and movies in several steps on Windows and Mac. You can download the software on your computer from its official download website.
Copy the URL of the HBO Max videos you want to download or just enter the keyword in the search box and wait for the analysis.
Click on the Settings icon on the right corner to select your output setting, like video format (MP4/MKV).
Click the Download button next to the video and you can enjoy the downloaded HBO Max videos offline right now.
Our Verdict: Reliable HBO Max Video Downloader to Try
Concluding the above features and the experience in using Kigo HBOMax Video Downloader, the common pros and cons of it can be listed as the following ones:
Pros:
Supports popular MP4 and MKV formats to save HBO Max videos offline
Keep HBO downloads forever without expiring
Provides HD quality to download HBO videos to enjoy the best experience
Saves all subtitles (in 3 types) and audio tracks with the videos in selectable options
Keeps the ID3 metadata information for all videos for easily managing offline library
Cons:
The free version only allows you to download 5 minutes of each HBO video
Only 720P quality is provided to download HBO videos offline
The speed to search HBO videos in the software is slow
By comparison, it would be better to use its registered version instead of the free version. Kigo HBOMax Video Downloader has offered a monthly subscription at USD14.95. If you want a long-term subscription, the yearly plan (at USD 59.95) and lifetime full license (at USD 129.90) are both provided for you to select.
The Best Alternative to Kigo HBOMax Video Downloader
Considering its video searching speed would be a little slower, and the best output quality only reaches up to 720P, you may want a better alternative to Kigo HBOMax Video Downloader for faster and higher-quality HBO video download service. Here, MovPilot Max(HBO) Video Downloader is the one you should really try.
MovPilot Max(HBO) Video Downloader also has an in-built search engine connected with the HBO library, but it works more smoothly and quickly to get the video results for you to download in just by seconds. Also, compared with Kigo, MovPilot Max(HBO) Video Downloader will offer up to 1080P quality to save the downloaded HBO videos, so you can enjoy a better experience in playing them offline using MovPilot.
This comparison table will clearly list the differences and similarities between the two software to you:
| | Kigo | MovPilot |
| --- | --- | --- |
| In-built browser | ✅ | ✅ |
| Searching speed | Slow | Fast |
| Downloading speed | Slow | Fast |
| Output formats | MP4, MKV | MP4, MKV |
| Best quality in 1080P | ❌ | ✅ |
| Subtitles and audio tracks download | ✅ | ✅ |
| ID3 metadata keeping | ✅ | ✅ |
Here we also show you the way to download HBO Max videos using MovPilot Max(HBO) Video Downloader easily within several steps.
Step 1. Open MovPilot Max(HBO) Video Downloader after installing it. First, you will need to sign in using your HBO account.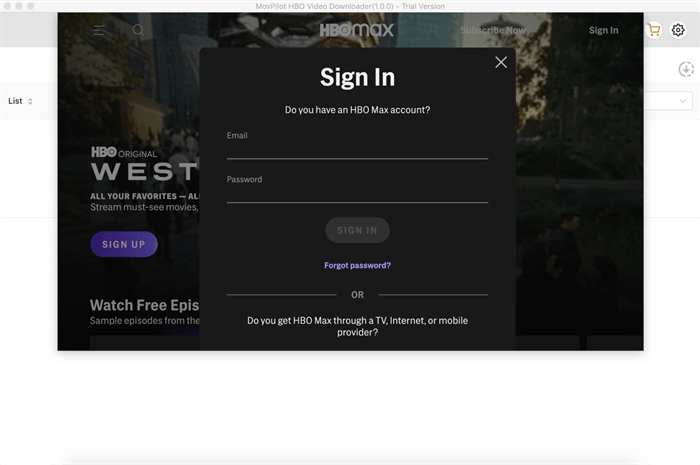 Step 2. Then directly enter the keywords or paste the URL into the search engine and find the videos you want to download offline. The software will work quickly and bring you all related results as the official web browser can do.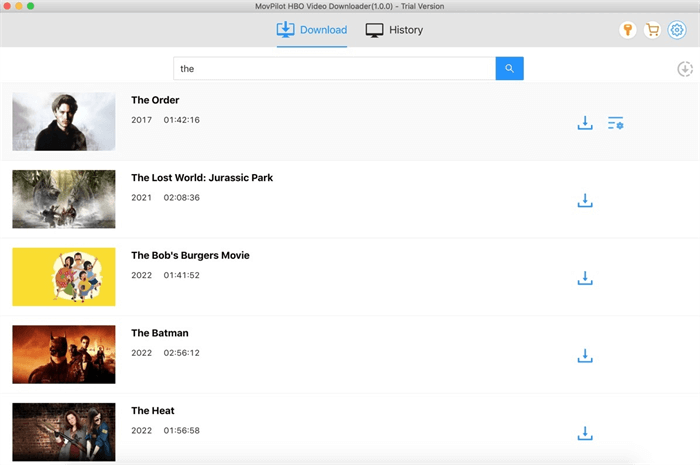 Step 3. Before downloading the HBO videos, you can click the "Setting" button on the top-right corner to set the "Video format", "Video codec", "Audio language", "Subtitle language", and "Subtitle type" based on your needs.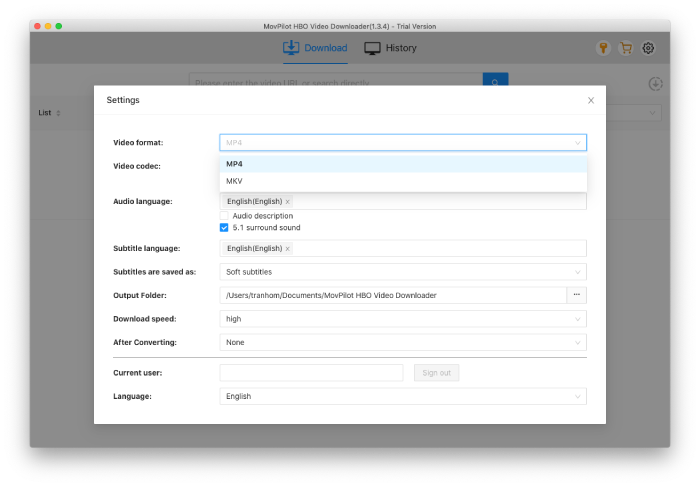 Step 4. Finally, click the "Download" button provided after the HBO videos in the search results and you can directly download them offline as MP4/MKV files.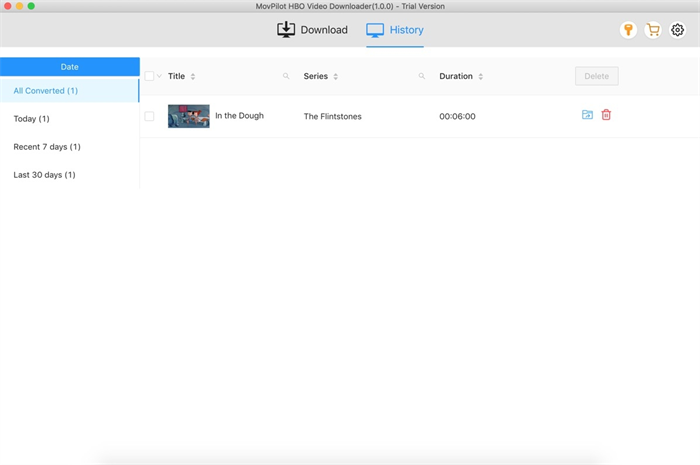 FAQs About Kigo HBOMax Video Downloader
Is It Legal to Use Kigo HBOMax Video Downloader?
Yes. Kigo HBOMax Video Downloader complies with all applicable laws, provided it is used for non-commercial, non-transmission purposes only. It's legal to download HBO Max videos with Kigo if the downloaded files are used for personality.
What Are the System Requirements of Kigo HBOMax Video Downloader?
Kigo HBOMax Video Downloader is compatible with Windows and Mac computers, which easily meets your needs. Its system requirements are listed as follows:
Windows: Windows 7, 8, 10, 11 (32-bit & 64-bit)
Mac: macOS 10.15 or later
Conclusion
Kigo HBOMax Video Downloader has its advantages in downloading HBO videos. But if you want faster searching and downloading speed, or saving HBO videos offline in higher quality (up to HD 1080P), the best alternative, MovPilot Max(HBO) Video Downloader is a better choice for you. This software also offers a free version to try, so you can download it and try it without any cost immediately!