StreamFab Video Downloader offers a potent solution for downloading movies, shows, and various content from popular on-demand streaming platforms. Unlike other downloaders that require separate tools for different platforms, StreamFab combines them all in one software, streamlining your experience.
While the cost may be higher, is it worth the investment? Before you decide, delve into this comprehensive review to uncover all you need to know about StreamFab Video Downloader.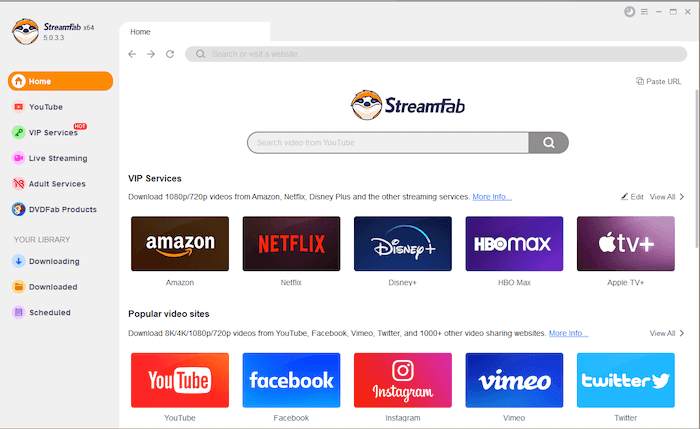 What is StreamFab Video Downloader?
StreamFab Video Downloader consolidates multiple popular on-demand streaming platforms into a single software. With this tool, users can easily select platforms like Netflix, Amazon, HBO, and Hulu, accessing online resources for instant video downloads.
The software also decrypts and converts encrypted resources into common video formats. This enables offline playback on any device using preferred media players, liberating users from online platform constraints.
Detailed Features of StreamFab Video Downloader
With StreamFab Video Downloader's solid market reputation, users might question its value due to its higher pricing compared to competitors. This section delves into various aspects of the software, offering a comprehensive understanding before diving in. Let's begin by examining its supported platforms.
Supported Platform
In contrast to other brands that offer separate software for video downloads on different platforms, StreamFab Video Downloader integrates them into one solution. Users can easily access various video platforms through the main interface of StreamFab to initiate online video downloads.
As per official sources, the software boasts compatibility with over 1,000 popular video streaming sites, including YouTube, Netflix, Amazon, HBO, Hulu, and Disney+. This means that with just StreamFab Video Downloader, users can effortlessly download videos from all these platforms. It's an ideal choice for those who enjoy content from multiple sources, providing seamless offline viewing options.
Search Functionality
StreamFab Video Downloader enhances video download efficiency by incorporating search engines from various platforms. Users can log in to their accounts, accessing the complete library to search for desired video resources to download. This eliminates the need for multiple app installations or manual navigation across platforms.
By entering keywords, users receive related video results with accompanying download icons—although the results might not be 100% accurate at times.
Rating: 3.5/5
Audio Selection
During video analysis, StreamFab Video Downloader can identify complete audio tracks, allowing users to choose preferred languages for offline video storage. Additionally, the software preserves EAC3 5.1 audio to ensure high-quality playback when viewing videos offline. Users can rest assured that this process maintains audio track integrity and doesn't compromise the listening experience.
Rating: 4.5/5
Subtitle Options
Similarly, StreamFab Video Downloader captures subtitles in various languages, offering users the choice to download them along with online videos. Regarding subtitle preferences, the software allows users to either embed the subtitles into the videos or download them as distinct SRT files for independent preservation.
Rating: 4/5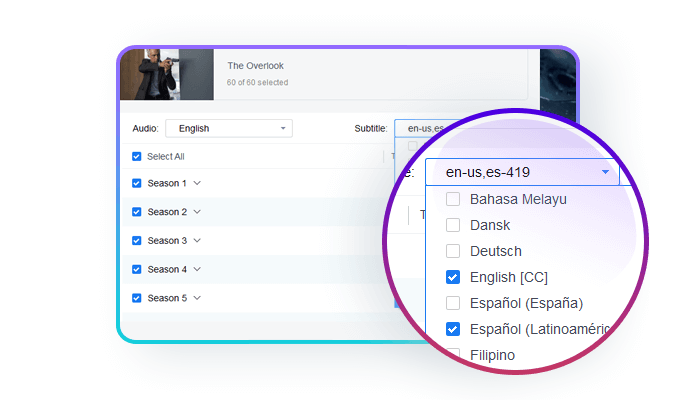 Video Quality
Out of all considerations, output quality stands as a crucial concern for most users. StreamFab Video Downloader guarantees optimal HD 1080p quality for downloaded videos from on-demand streaming platforms. Consequently, regardless of the device or media player, users can relish superb video playback characterized by high-definition excellence.
Rating: 4/5
Download Efficiency
StreamFab Video Downloader maximizes efficiency by enabling high-speed batch downloads. Users can simultaneously initiate multiple tasks and automate downloads for newly-released episodes. However, occasional challenges in downloading certain movies were observed during testing.
Rating: 4.5/5
How to Use StreamFab Video Downloader?
It is simple and quick to use StreamFab Video Downloader. Here's a step-by-step tutorial to get you started:
Step 1. Download StreamFab Video Downloader from the official website, install it, and launch the application.
Step 2. Copy the video URL from the streaming platform, then paste it into StreamFab Video Downloader by clicking "Paste URL".
Step 3. Select the video quality and output folder. Then click "Download" to start the download.
Step 4. Track download progress on the "Downloading" page, find the finished video in the "Downloaded" tab, and view it offline by entering the output folder.
Pricing and Plans of StreamFab
As previously mentioned, users need a subscription to access StreamFab Video Downloader's impressive features. A free trial is available for users to experience its functionality in advance. However, there's a significant limitation during the trial: only 3 videos per platform can be downloaded for free.
If you're interested in unlocking the complete set of features, the software provides the following subscription plans for users:
| Plans | 1-month subscription | 1-year subscription | Single lifetime license |
| --- | --- | --- | --- |
| Price | US$39.99 | US$69.99 | US$89.99 |
Superior Alternative to StreamFab Video Downloader
However, the integration of download functions for different platforms into StreamFab Video Downloader could lead to complexity and high CPU usage during video processing. As a result, your computer's performance may slow down and you may experience unexpected software glitches.
In addition, if your video download needs are limited to a single platform, selecting platform-specific video download software may provide better value. In particular, the 5 video downloaders accessible through MovPilot offer comparable quality services to StreamFab Video Downloader, but at a more budget-friendly price:
MovPilot Netflix Video Downloader
MovPilot Amazon Prime Video Downloader
MovPilot Disney Plus Video Downloader
MovPilot Max(HBO) Video Downloader
MovPilot Hulu Video Downloader
These options are compatible with videos from Amazon, Netflix, HBO, Hulu, and Disney+ in popular MP4/MKV formats, including original HD 1080p quality and 5.1 audio. They also retain complete language options for audio tracks and subtitles, ensuring an identical offline video experience. Furthermore, their prices are notably more budget-friendly compared to StreamFab Video Downloader.
>> Explore MovPilot Product Prices
While StreamFab Video Downloader provides a comprehensive solution for video downloads to all major streaming platforms, consider MovPilot's specialized software such as the Netflix Video Downloader.
MovPilot's customized options, including platform-specific downloaders, offer efficient performance while maintaining StreamFab's quality standards. Your choice should be based on your specific needs for a seamless video download experience.
MovPilot Netflix Video Downloader
Download Netflix Movies and Shows to Watch Offline Easily!