It's not difficult if you want to watch Netflix movies or shows on PS4 as you can directly download the Netflix app from the PlayStation Store. However, when you don't have internet or when data charges might be expensive, you may wonder if it is available to download Netflix videos for offline viewing.
Having a functioning internet connection is a requirement for using Netflix on PS4/PS5. But no worry. There are alternative solutions that can fulfill your needs. In this article, we will explore two methods to watch Netflix movies on PS4/PS5, giving you the best viewing experience whether you have an internet connection or the Netflix app installed or not.
Option 1. Get Netflix App on Sony PlayStation 4/5
To access Netflix movies or shows on PS4/PS5, the most convenient way is to download the Netflix app. However, with this app, you need to make sure that your internet is always connected because the Netflix app on PS4 doesn't offer offline download feature. So, for offline viewing of Netflix movies and shows on PS4 or PS5, please refer to Option 2.
How to Download Netflix App on PS4
Most of the time, the Netflix app is already installed on the PS4 as a default. If not, you can easily download it to access a wide range of content on Netflix for PS4. Below are the steps to how to get Netflix on PS4:
Open your PS4 and log into your PS4 account.
Visit the PlayStation Store. On the home screen, navigate to the "TV & Video" section.
Then look for the "Netflix" icon and click the "Download" button. Go to the welcome screen and sign into your Netflix account.
Now you can browse or select "Search" to find Netflix movies or shows you want to watch on PS4.
How to Download Netflix App on PS5
As the 5th generation of Sony's PlayStation series, media applications such as Netflix are also pre-installed in the system for users to stream. If not, just follow these steps the get it done:
Connect PlayStation 5 to the network. Then straight up to the "Media" section on your PS5 home screen.
Then go straight over to Netflix.
Press the "Download" button to get loaded on your PS5 console.
Option 2. Play Netflix Movies from USB on PS4/PS5
If you want to stream Netflix videos on PS4/PS5, you need to connect to the PlayStation network and have s Netflix subscription. However, you'll find the download service for offline playback is not available on PS4/PS5 even after you successfully download the Netflix app from the PlayStation Store. Besides, if the PlayStation network is down for maintenance or if you cancel the subscription, you'll also lose access to all Netflix content.
Thus, if you desire offline Netflix viewing on your PS4/PS5, MovPilot Netflix Video Downloader offers a convenient solution. By downloading Netflix videos to MP4 on a computer and transferring them to PS4/PS5 via a USB drive, you can watch your downloaded content even without the Netflix app installed on the PS4/PS5.
MovPilot Netflix Video Downloader is designed to help you download Netflix movies and shows for offline playback on any device even the Nintendo Switch! It is able to convert all Netflix titles to MP4 or MKV format in 1080P full HD resolution. Better still, the downloader embeds a Netflix browser, meaning that you can access the whole library without installing the Netflix app.
Plus, it also supports batch download videos at 5X faster speed. So, whether a single movie or an entire season shows from Netflix, MovPilot Netflix Video Downloader can rip them in one click.
Main features that you shall not miss
Convert Netflix movies or shows to MP4 or MKV.
Save Netflix titles in full HD 1080P with super-fast speed.
Preserve multi-language audio and subtitle choices.
Available on both Windows and Mac.
Batch download Netflix titles to save time.
Now, follow the step-by-step guide below and see how to download Netflix videos with MovPilot Netflix Video Downloader and play Netflix Movies from USB on PS4/PS5.
Step 1. Download MovPilot Netflix Video Downloader
Download and install MovPilot Netflix Video Downloader on your computer. Launch it and log into your Netflix account.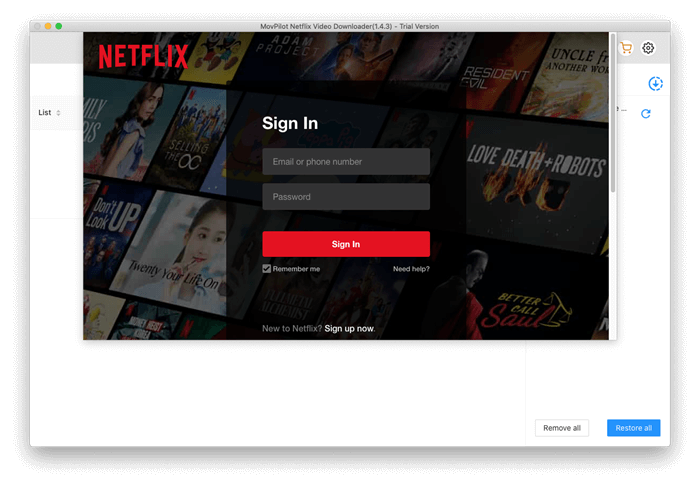 Step 2. Select Netflix videos for download
There are two ways to search for Netflix titles. You can directly enter the name of the movie or show or copy the URL from the Netflix webpage and paste it on the input bar of MovPilot Netflix Video Downloader.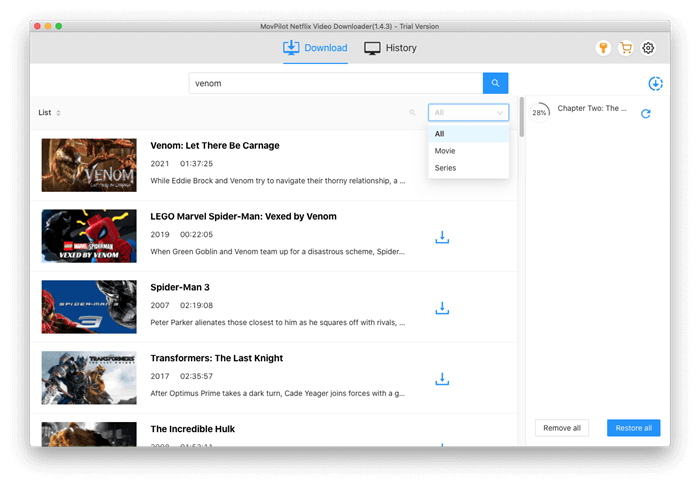 Step 3. Change output format
The default output format is MP4. If you want to make some adjustments to these parameters, you can click the "Gear" icon on the top right to reach the settings.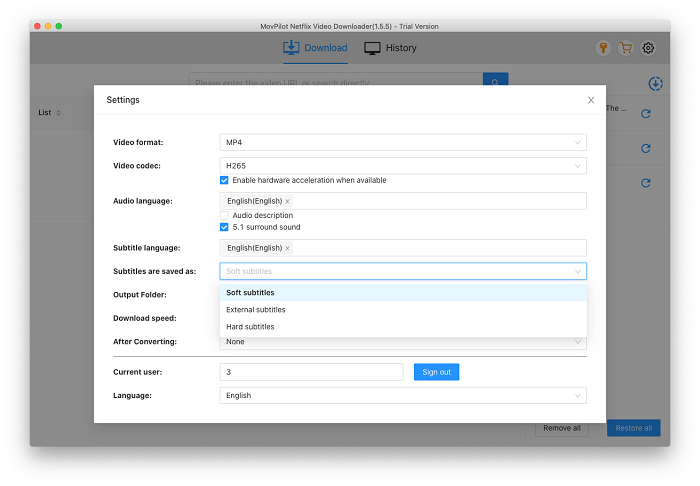 Step 4. Start to download Netflix videos to MP4
When you get the result, click on the "Download" button and you can download Netflix videos. When the download is done, go to the "History" section and view the output folder.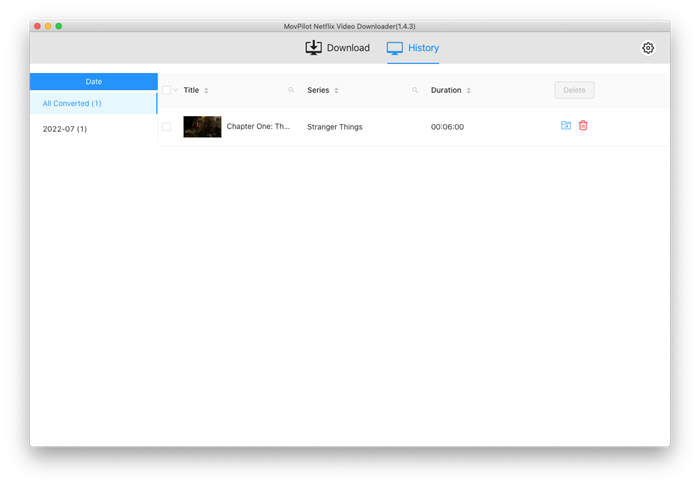 Step 5. Play Netflix videos on PS4/PS5
Now, you can plug a USB drive into your computer and copy the downloaded videos to your USB folder named "Videos". Then remove the USB drive and plug it into your PS4 or PS5. Launch the Media Player app and choose the USB drive. Then you can browse the videos you have just transferred.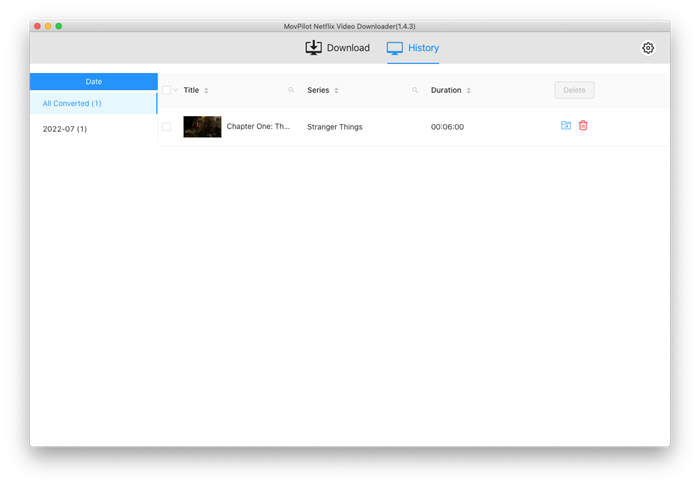 FAQs About Watching Netflix on PS4 and PS5
Why is Netflix Not Working on My PS4?
Netflix not working on PS4 can be attributed to system compatibility, version issues, or network problems. If you have encountered this annoying issue, you can try the following solutions to resolve the problem.
Possible solutions include:
Updating the Netflix App
Checking internet connectivity
Rebooting the console.
Remove and download Netflix on PS4 again to clear the stored cache
Updating the PS4
Connect to the internet with a cable.
Set up DNS.
How to Log Out of Netflix on PS4/PS5?
If you want to get a new device you want to change an account, you can follow these steps to log out of Netflix on PS4/PS5.
Open the Netflix App on your PS4/PS5.
Press "O" on your controller and select the "Gear" icon.
Select "Sign Out" or "Logout" and then click "Yes" to log out of your Netflix account.
Conclusion
PS4 and PS5 are not just used for game playing nowadays, they also support media streaming. To watch Netflix movies and shows, you can directly download the Netflix app from the PlayStation Store.
However, due to the limitations, it is better to use MovPilot Netflix Video Downloader. With this program, you can effortlessly enjoy your favorite Netflix content offline on PS4 or PS5 by downloading videos to MP4 and playing them from a USB drive, ensuring an uninterrupted Netflix experience on your PlayStation console. Just give MovPilot Netflix Video Downloader a try!