Netflix has obtained lots of fans for it provides an extensive selection of remarkable movies and TV shows. However, it poses strong limitations on video downloading—the downloads are DRM-protected, so you can play and watch them in the Netflix app solely. What's worse, you cannot keep those downloads forever on your devices since Netflix stipulates that downloaded videos on Netflix have a limited validity period ranging from 48 hours to 7 days, meaning that you have to re-download them once they expire. How frustrating it is!
Don't worry, you can still download Netflix movies from Netflix to USB to solve the problem. Once downloading Netflix movies to USB, you can keep them forever and watch them anytime and anywhere, with no need to worry about whether they will expire or not. Wanna know how to operate it? Please scroll down and continue reading.
How to Download Movies from Netflix to USB Easily?
As we mentioned above, Netflix has encrypted all downloaded movies and TV shows to make them playable only within the app, making it impossible to transfer Netflix downloads to USB drives or other devices. Given that obstacle, it's better to turn to a professional third-party tool: MovPilot Netflix Video Downloader.
Save Netflix Videos via MovPilot Netflix Video Downloader
As a reliable and professional tool for video downloading, MovPilot Netflix Video Downloader will make it your ideal solution without hesitation for ripping all movies and TV shows available on Netflix as MP4 with a few simple clicks. Then, you can transfer the downloaded movies from Netflix to USB and enjoy them forever on any media player.
Main Features of MovPilot Netflix Video Downloader
onvert Netflix videos to MP4 or MKV in full HD 1080P
Built-in Netflix browser to directly search for any Netflix shows and movies
5X download speed to download videos in batch
Offer multi-language audio and subtitle choices
Preserve Dolby Digital 5.1 surround sound for superior playback
Fully compatible with Windows & Mac
Without further ado, let's see how to download Netflix videos with the help of this Netflix video downloader on Windows, for example.
Step 1. Install and Run MovPilot Netflix Video Downloader
Download MovPilot Netflix Video Downloader and install it on your Windows. Then launch it. After that, log in to your Netflix account when the sign-in window pops up. You can hit "Remember me" to keep your account signed in without executing the software again next time.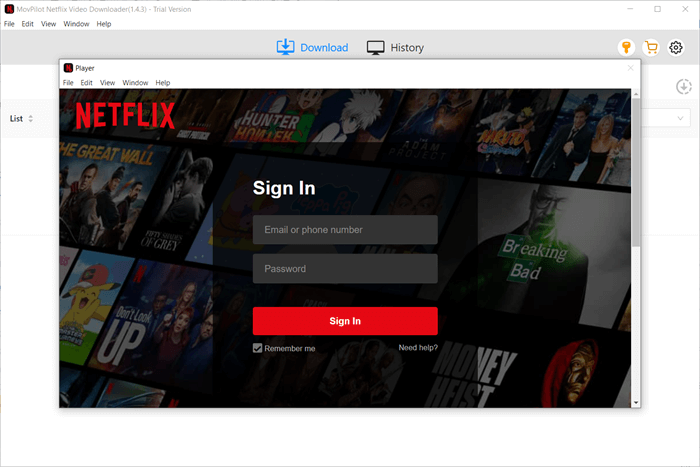 Step 2. Search for Netflix Movies/TV Shows to Download
On the "Download" module, directly type the name of the Netflix movies or TV shows you want to download in the bar, then hit the blue button on the right. In addition, you can also copy & paste the URL of the video in the bar to search for it directly and precisely.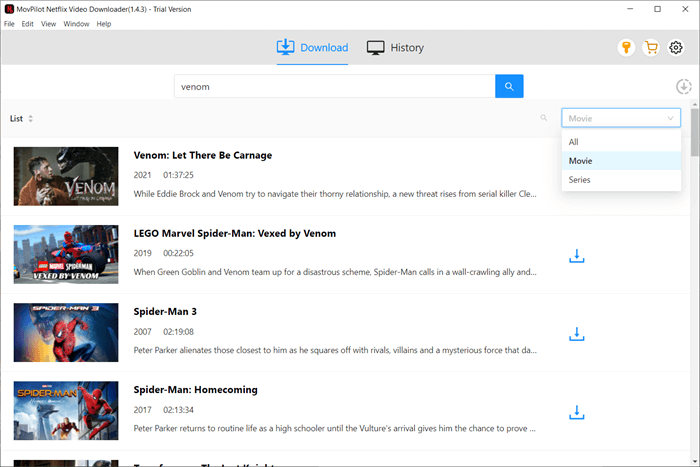 Step 3. Complete Customized Output Settings
Click on the gear icon in the upper right corner to complete your customized settings. You can choose the output format, video codec, audio language, subtitle language, etc. Alternatively, you can also customize specific movies via the buttons to the right of them on the search page.
If it is a TV show, click the download button first, and then select the episode you need to start the customized settings.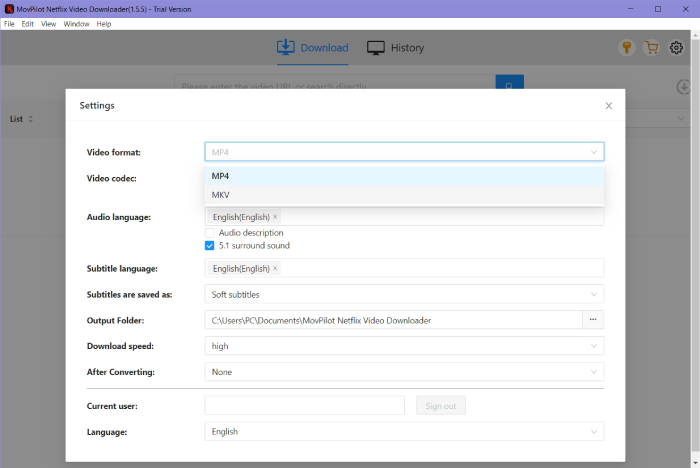 Step 4. Download the Movies/TV Shows for Transferring Them to a USB Drive
When the customized settings are finished, tap on the download button provided behind all the Netflix movies/TV shows. When the downloading process is done, you can tap the "History" module to check your downloads and pave the way for transferring them to a USB drive.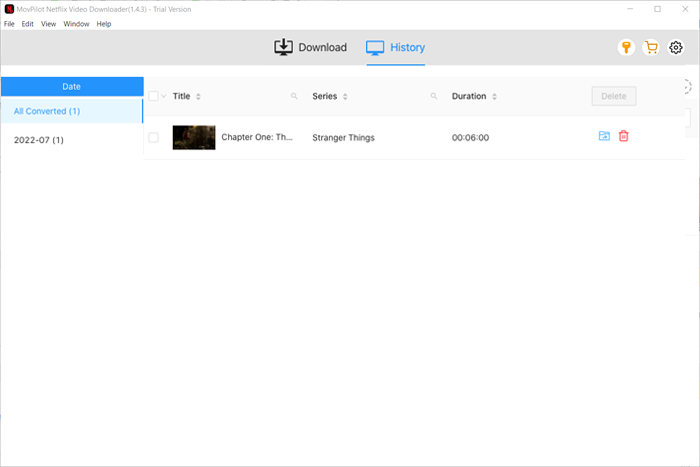 Transfer Netflix Movies/Shows from PC to USB Drive
After finishing the steps above, it is time to transfer your Netflix downloads from PC to USB drive. Please follow the tutorial below to achieve the target:
Step 1. Insert your USB drive into your PC.
Step 2. In the "History" module of MovPilot Netflix Video Downloader, click the folder icon to find exactly where your downloads are placed.
Step 3. Simply drag those files of your Netflix downloads to your USB drive, or copy & paste them into the USB. Then unplug your USB drive in safety. You can now forever keep those Netflix downloads and enjoy them anytime and anywhere.
Tips:
MovPilot Netflix Video Downloader supports changing the output location. Once inserting a USB, you can choose to directly download Netflix videos into the Flash Drive.
FAQ: Can I Move Netflix Downloads to USB?
Of course, to free up some storage for your PC, you can move Netflix downloads to USB by finding the hidden output location of Netflix. However, if you directly drag those files to your USB drive, you may find these Netflix downloads no longer available like before in the Netflix app for the DRM protection.
To avoid this, you can change the saved location of the whole Netflix program, and move the whole files of the Netflix program to the USB drive to make sure that all Netflix downloads could be playable as usual.
Here is the tutorial to change the installation site of Netflix on a Windows system.
On your Windows, go to "Settings" and click on "Apps".
2. Select the "Apps & Features" module on the left. Then scroll to find "Netflix" on the right.
3. Click on the "Move" icon. Then choose your desired USB drive to place the Netflix app and its downloads.
Conclusion
To sum up, since Netflix poses a time limitation ranging from 48 hours to 7 days on its offline viewing, it is troublesome if you want to watch your Netflix downloads anytime and anywhere. To cope with this problem, you may consider downloading Netflix movies and TV shows to your PC and then transferring them to a USB drive.
With the help of MovPilot Netflix Video Downloader, an all-in-one third-party tool, it can convert all Netflix movies and TV shows to playable MP4 files. You can then easily move them from Netflix to USB and keep your Netflix movies forever. This is bound to provide you the best Netflix offline viewing experience whenever and wherever you want.