As one of the largest video streaming service providers in the world, Netflix has the hottest movies or TV shows globally. The downloading process for offline watching can be very easy because you just need to click the "download" button on Netflix.
However, finding where are Netflix downloads stored is not as straightforward as the downloading process itself, since where do Netflix downloads go on iPhone is different from the case on PC or Android. Don't worry, this article will enhance your user experience by explaining how to find Netflix downloads on various devices. Just follow and read on.
The Location of Netflix Downloads on Windows 10/11 PC
If you are using a computer running Windows 10 or 11 operating system, you may encounter the same problem, which is where does Netflix save downloaded movies. In the Netflix app, you can view them by clicking Menu, then My Downloads. But in the system folder, Netflix has a distinct hidden folder designated for downloads on your PC, which is not easy to find. Now let's check the specific location below.
Step 1. Access File Explorer from the taskbar.
Step 2. The method of finding the download location varies depending on the version of Windows that your PC is running.
For Windows 10: Go to the View tab on the top left corner. Hit Options at the top right of the menu bar, and a pop-up window for Folder Options will appear.
Next, navigate to the View tab, and in the Files and Folders section, checkmark "Show Hidden files, folders, and drives". Finally, click on Apply > OK to save your changes.
For Windows 11: Select the View tab and choose Show > Hidden items. Then you can make all hidden folders appear on your screen.
Step 3. Follow this path to exactly find your Netflix download folder in File Explorer:
C:\Users\Username\AppData\Local\Packages\4DF9E0F8.Netflix_mcm4njqhnhss8\LocalState\offlineInfo\downloads
Once you reach this folder, you will find multiple files inside it. The media file with the largest size should be what you're looking for. But note that you can only open it using the Netflix app.
The Location of Netflix Downloads on Android
The case when you're using an Android device is also different. In the Netflix app itself, you can easily find downloadable movies on Netflix by tapping My Downloads in the bottom right corner of the app interface. As for the location in the local folder, here's a concrete tutorial on how to locate them.
Step 1. Run Files and choose Settings > Show hidden files.
Step 2. Head to Internal Storage > Android > data > com.netflix.mediaclient > files > Download > .of
Step 3. At this time, folders' names with eight-digit random numbers will show up. You can open one of them to find your downloaded Netflix content.
The Location of Netflix Downloads on iPhone/iPad
Now it comes to the question that where do Netflix downloads go on iPhone, iPad, or iPod touch from the Netflix application. It should be noted that the "File" App in iOS solely stores imported and iCloud files, while files and data generated by the app remain accessible only within the confines of the application itself. Therefore, you can conveniently access your downloads within the Downloads section of the Netflix app on your iOS devices after downloading Netflix movies to iPad/iPhone.
Step 1: Launch the Netflix app.
Step 2: Tap on Downloads. And, you can see your Netflix downloads are all listed on this page.
How to Change the Default Netflix Downloads Location
If you feel it is troublesome to know where does Netflix downloads to according to the above location guidance, and want to revise the location by yourself, the tutorial is also provided below in order to lead you to do so on different devices.
On Windows PC
Step 1. Open System Settings and select Storage, then click Change where new content is saved in the bottom interface.
Step 2. Under the "New movies and TV shows will save to:" title, change it from This PC(C:) to your desired location. Then, click Apply.
On Android
Step 1. Run the Netflix app and tap More > App Settings.
Step 2. Go to Downloads and tap Download Location.
Step 3. Choose SD Card.
How to Fix it When You Can't Play Downloaded Netflix Movies
A frustrating fact is that although you understand how to find downloadable movies on Netflix in your system folders, you can't open them to get them played directly. That's because there is an encryption technology applied to them to prevent them from being played outside the Netflix app itself. Faced with the Netflix download limit, a specially designed tool is sharply needed to help you get out of trouble.
After trailing and testing, MovPilot Netflix Video Downloader stands out and is exactly the tool you're looking for! As a professional as well as an easy-to-use software program, it can help you get rid of the restrictions of DRM protection, so that the downloaded Netflix videos can be played on any device and player, which is really convenient when you go out to download Netflix movies for free offline watching! What's more, the high-output quality and multi-language option can give you the best user experience.
⭐ Key Features of MovPilot Netflix Video Downloader:
Remove DRM-Protection: help you download any Netflix original video to MP4 or MKV format and support transferring them to other devices.

High Compatibility: support Windows & Mac systems, and this software lets you enjoy Netflix videos on Mac which don't even have Netflix apps.

Fantastic Output Quality: Netflix videos can be exported in full HD 1080P and retain Dolby Digital 5.1 surround sound for superior playback.

Multi-language Option: offer audio and subtitles in multiple languages to adjust to your needs.

Fast Downloading Speed: employs hardware acceleration technology so the downloading speed can reach up to 5x faster.
MovPilot Netflix Video Downloader is such a powerful and strong tool that you need to know how to use it clearly to better meet your demands. Here are the details to guide you to download Netflix videos locally by MovPilot Netflix Video Downloader.
Step 1. Log in to Netflix in MovPilot Video Downloader
After downloading and installing MovPilot Video Downloader, launch it and log into your Netflix account.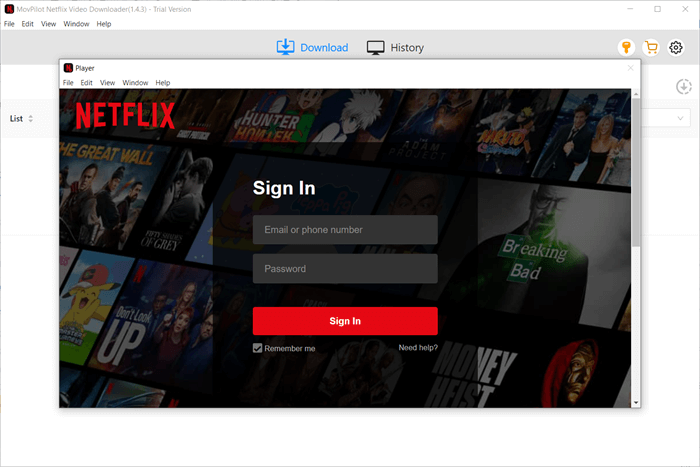 Step 2. Search for Netflix Movies/Shows
Enter the movie name or copy and paste the URL of the Netflix movie/show on your computer browser, and then click the search button.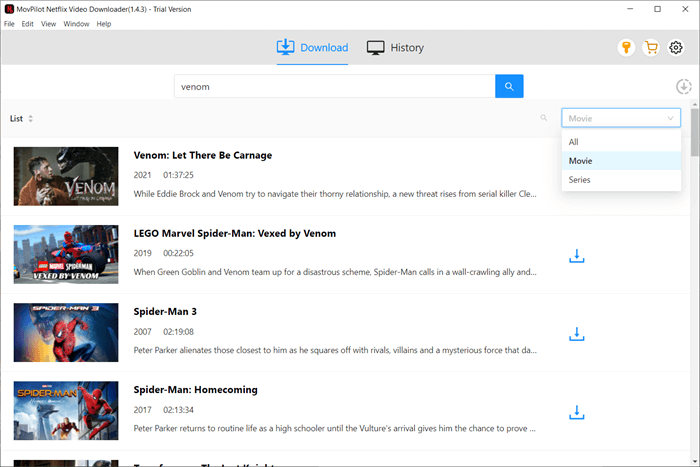 Step 3. Download Netflix Videos to MP4
Click on the download button to initiate the download of the Netflix movie. If you are downloading a series or TV show, you will be prompted to select specific episodes before proceeding with the download. Once you have made your selections, click on the download button to begin downloading all chosen content. Note the default format is MP4.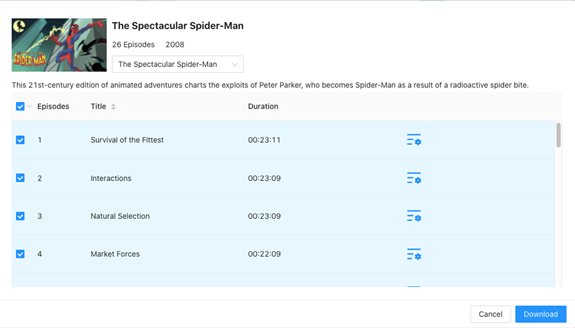 Optional: Advanced Settings
If you have more advanced demands, there are two options available for setting up Netflix video output. Option 1 allows you to maintain consistent formatting, audio/subtitle language preferences across all downloaded movies/shows. Option 2 enables customization for specific episodes.
Option 1: Set Up All Video Output
Click on the gear icon located at the top right corner to access settings. In the popped up window, you can select the video format, audio language, subtitle language and subtitle format freely.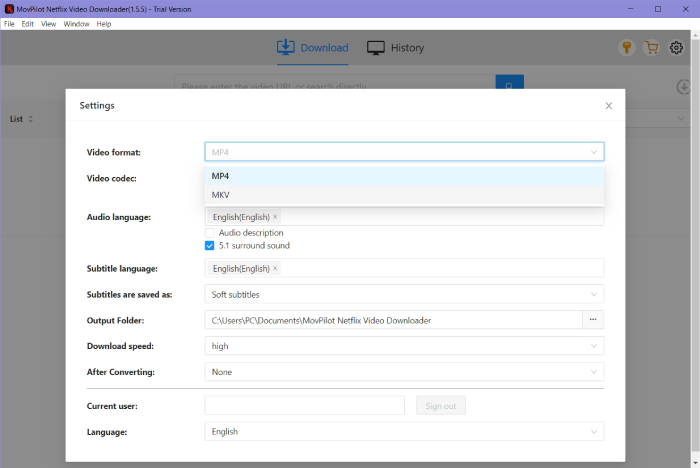 Option 2: Set Up A Single Video Output
After searching for a movie, hovering your mouse over the title will reveal the settings button. For series or TV shows, click on the download icon, and then it will display the settings icon. Click on the episode's Settings button to make an exception. Under "Subtitles" tab, you can also choose the subtitile types.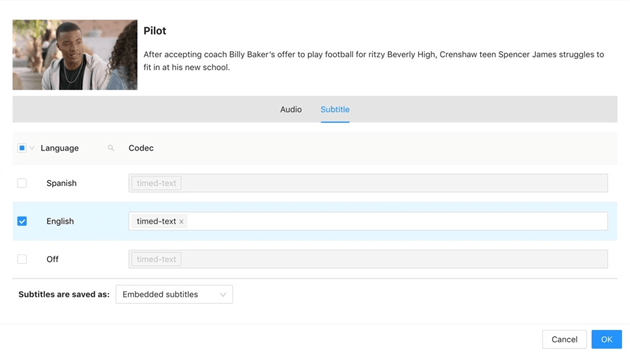 Conclusion
By and large, this post mainly shares with you where are netflix downloads stored, and you can even change the download location according to your needs. However, the downloaded content is still DRM-protected. MovPilot Netflix Video Downloader is an ideal choice for you in this sense. It absolutely wins out in today's market for its excellent performance, concise interface, stable compatibility, and efficient downloading process. So, download it now and it won't let you down!
MovPilot Netflix Video Downloader
Download Netflix Movies and Shows to Watch Offline Easily!