FreeGrabApp Netflix Downloader stands as a leading choice among the best Netflix video downloaders, boasting a commendable 4.8/5 average rating on its official site. This score prompts the question: Can the rating be trusted? Delve into this review for comprehensive insights into FreeGrabApp Netflix Downloader based on my testing. If you're considering employing this tool, this detailed review will help you determine if it aligns with your practical requirements.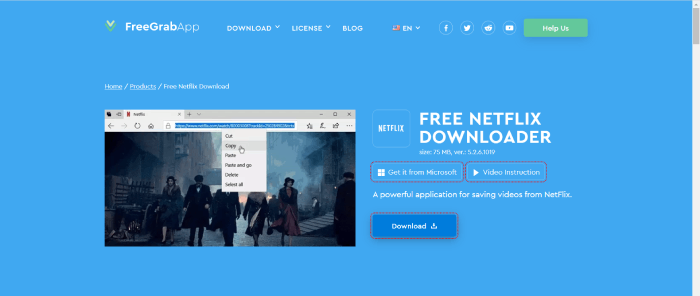 Feature Review of FreeGrabApp Netflix Downloader
In the upcoming section, I'll provide an in-depth review of the FreeGrabApp Netflix Downloader. Drawing from my own user experience, I'll cover various aspects, such as movie search, download quality, formats, audio, and subtitles. If you're contemplating the value of investing in this app, read on for valuable insights.
Searching for a Movie
Like numerous downloaders, it supports users to copy and paste Netflix video links into the software for downloading. Nevertheless, unlike some of the best streaming video downloaders, it lacks an integrated search engine. This means users need to log into their Netflix accounts to directly search for videos by name within the app. And it will be inconvenient if you want to download multiple episodes simultaneously.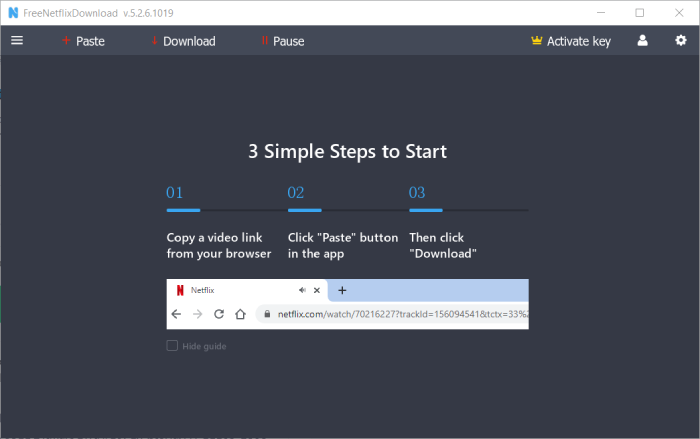 What Video Quality and Format Will You Get?
Regarding video and audio quality, the app offers three options: High quality, Default, and Minimum size. Click the "Setting" icon for a specific video to adjust these settings. FreeGrabApp Netflix Downloader supports up to 1080P quality.
For video format, the app helps you download Netflix movies to MP4 by default, with no other format choices such as MKV. If you require a different format like MKV, you'd have to use another third-party tool for conversion.
About Download Speed
This app offers ultrafast link conversion speed for swift downloads. It supports batch downloads, with up to 10 videos or complete series to be saved together. Yet, the batch download feature requires a subscription. Also, be cautious as downloading over three videos simultaneously may cause crashes, a significant drawback.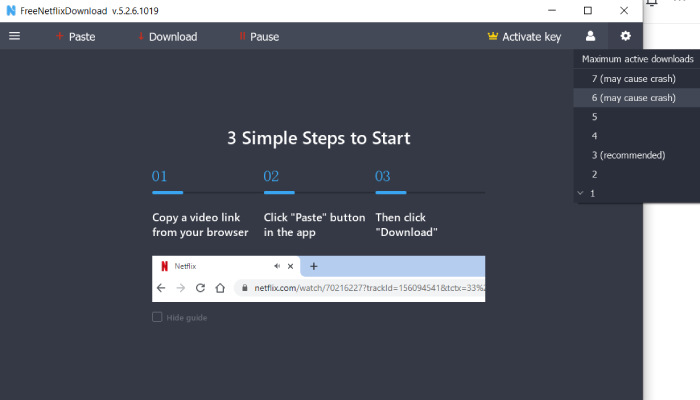 Does It Preserve Original Audio Tracks?
Indeed, it does. The application presents two audio options: original audio and audio for the visually impaired. The latter stands out as a notable feature, enabling those with visual challenges to download audio descriptions. Additionally, you can customize track quality, opt for Stereo or Dolby, and select audio languages to suit your preferences.
Can You Get the Original Subtitles?
Yes. The software offers two formats for saving subtitles, one in original format and the other in SRT format, but the latter requires a membership to unlock. In addition, it also has dozens of optional subtitle languages provided for you, including Chinese, English, Italian, German, Japanese, etc.
Is FreeGrabApp Netflix Downloader Really Free?
While it touts itself as a free Netflix downloader, FreeGrabApp Netflix Downloader has several limitations in its free version. For instance, only one video can be downloaded at a time, SRT subtitles aren't available, and downloading is restricted to the first 3 minutes of a video.
To unlock all features, you'll need the premium version, priced at $9.99/year. Subscription plans can be found by clicking "Buy Now." A novel idea is offering a yearly free key in exchange for unbiased feedback about the app. Check the requirements and contribute a review for the chance to access FreeGrabApp for free.

Alternative to FreeGrabApp Netflix Downloader
Personally, I'm not so satisfied with the performance of FreeGrab for its lacking of batch downloads, SRT subtitles, and complete movie downloads. Also, it lacks a built-in search engine, necessitating manual link copying.
In my testing, I've had a more satisfying experience with MovPilot Netflix Video Downloader . For those seeking a high-performing option, consider trying it. Unlike FreeGrabApp Netflix Downloader, MovPilot supports direct name-based searches after logging into your Netflix account, streamlining the process.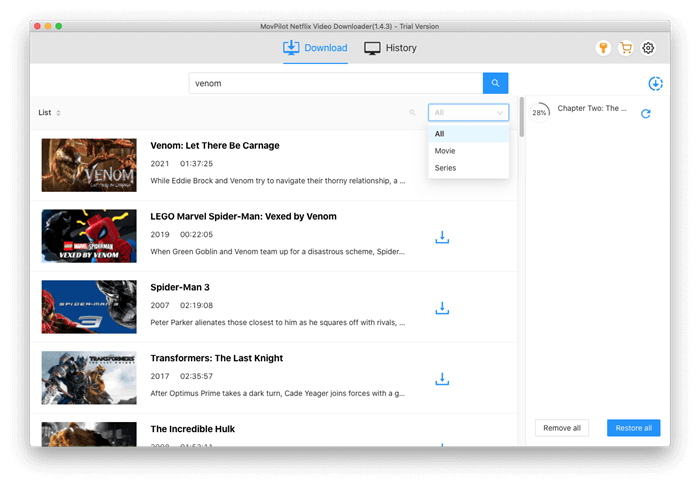 Likewise, MovPilot supports 1080P video quality and includes the MP4/MKV format option. It excels in batch downloading multiple videos and TV series episodes concurrently for swift Netflix video acquisition. MovPilot Netflix Video Downloader offers hard, embedded, and external (SRT) subtitle formats. In Settings, you can also personalize audio and subtitle languages.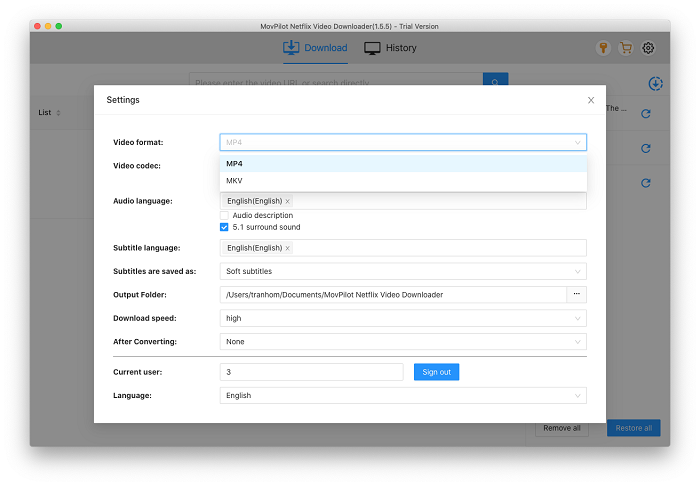 Final Verdict
To sum up, many so-called free Netflix downloaders require memberships for full access, such as FreeGrabApp. Prior to subscribing, evaluate if it's worth the investment and opt for a high-performing option to avoid wasteful spending.
MovPilot Netflix Video Downloader stands as a prime choice. Its versatile capabilities enable seamless HD video grabbing and crash-free batch downloads. With an integrated search engine, movie searches yield precise results with ease.
MovPilot Netflix Video Downloader
Download Netflix Movies and Shows to Watch Offline Easily!