Amazon Prime Video provides a rental service for users to watch movies at a cheaper price without a subscription. And you can download rented movies on Amazon to watch offline. However, the rented videos will only be valid for 2-7 days if you start to watch them. After expiration, you need to rent the Amazon Prime videos again or purchase them.
So, you may wonder: How to download rented Amazon Priem movies on the Prime Video app? Is it possible to download rented Amazon Prime movies to MP4 and keep them permanently? No worries. Everything will be introduced in this post. Just read on to get the solution.
Download Rented Movies on the Amazon Prime Video Official App
Before downloading rented movies from the Amazon official apps, you should be aware that not all rented videos can be downloaded and there are some Amazon Prime download limitations:

Rental videos can only be downloaded to one compatible device.
Compatible devices include Fire tablet, Android phone/tablet, iPhone/iPad, and computers running macOS 10.14 and above or Windows 10/11.
Here comes the process of downloading rented Amazon movies in the Amazon Prime Video app.
Install the Amazon Prime Video app on a compatible device and launch it.
Search for your rented Prime Video title.
Click the Download button.
For movies: Select the option to download the title from the details page.
For TV shows: There is an option to download entire seasons. To download a single episode, you can select the download icon on the episode list.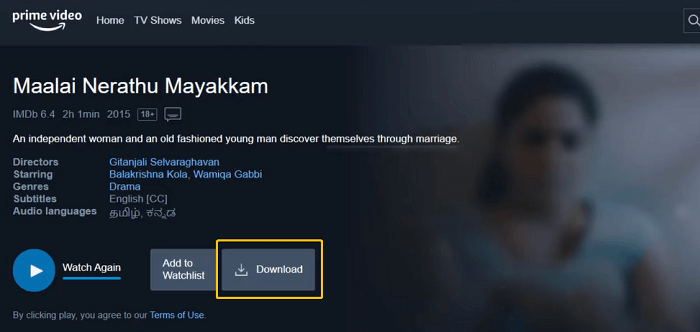 When the download is completed, the video will appear in your download list. Remember to watch it within the validity period.
Download Rented Movies from Amazon Prime to MP4
Now you've noted that rental movies can only be downloaded on one device. And you can't download them on another one at the same time unless you delete them on the original device. This undoubtedly adds a lot of annoying hassle.

Fortunately, MovPilot Amazon Prime Video Downloader can solve these problems perfectly. It helps you download any Amazon Prime movie (including rented, purchased, Freevee video, and content for Prime membership) to common video files and keep Amazon Prime downloads forever on your computer drive. You can then transfer the downloaded rental videos to any device and play them with any local player.
Highlighted Features of MovPilot Amazon Prime Video Downloader
Get rid of the 30-day and 48-hour validity period & 1-device
Download rented Amazon Prime videos to MP4 or MKV in 1080P.
Up to 5X ultrafast download speed & hardware acceleration
Preserve the original multilingual subtitles and audio tracks.
Support Dobly 5.1 surround sound for better playback.
Are you interested in MovPilot Amazon Prime Video Downloader now? Let's see how to download Amazon Prime videos on Mac or Windows with MovPilot Amazon Prime Video Downloader.
Step 1. Log in to your Amazon account
Install and open MovPilot Amazon Prime Video Downloader on your computer. Then select the Amazon website you are using and log in to your Amazon account.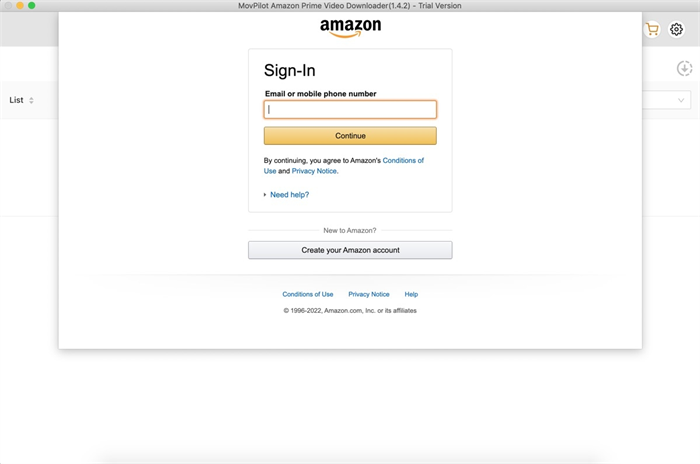 Step 2. Select the format/quality of your video
Click the settings icon in the upper right corner. You can set the video format, video encoding, audio language, etc. of all video downloads at one time. If you do not modify these parameters, video format and quality will be set by default.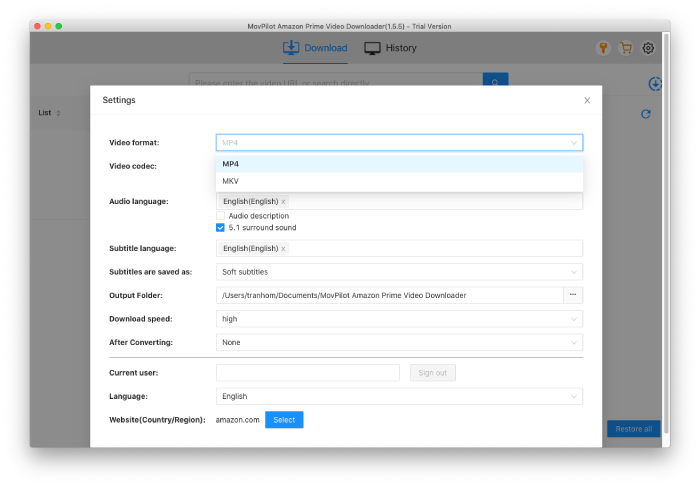 Step 3. Search for your rented Amazon Prime video
Enter the video name in the search bar or copy the video link from your browser and paste it into the search field.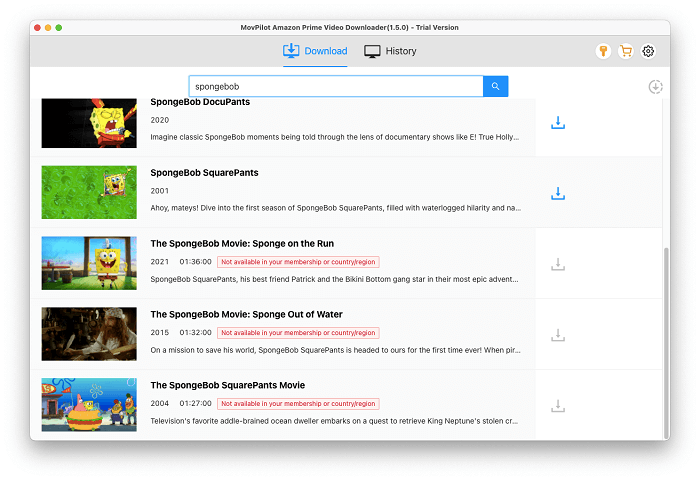 Step 4. Download your rented Amazon Prime video
Click the download button with the down arrow next to the video. The video will be added to the download list waiting to be downloaded.
Step 5. Confirm video downloads
After downloading, click the History tab at the top of the screen to view the downloaded video. If you prefer to watch Amazon movies offline on another device or player, click the "File" icon on the right to find the MP4 file on disk and paste it to transfer it to other devices. The downloads can be perfectly played as well.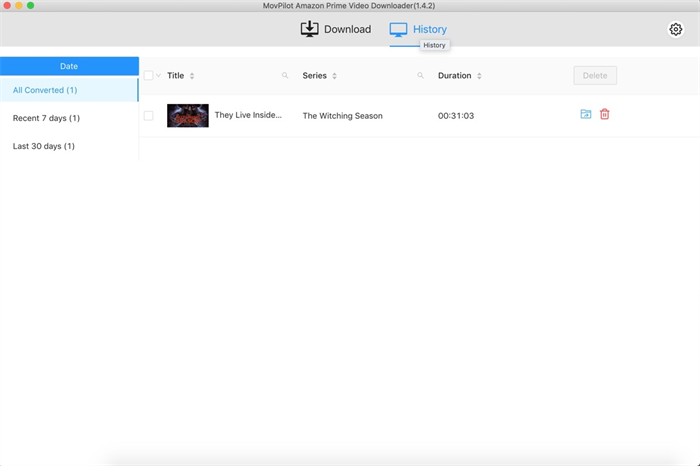 FAQs About Downloading Rented Movies from Amazon
How long can you rent a movie on Amazon Prime?
A video you rent on Amazon is available for 30 days for you to watch, but it will expire 48 hours after you start watching it.
More Tips about Rented Amazon Movies:
If a rented movie expires, it can not be watched unless you rent or purchase it again.
Purchasing/renting videos isn't supported in the Android mobile app.
If you start watching a rental movie before the video expires, the movie you are watching will not be cut off after the video expires, as long as you don't go back to the rental screen.
Can I watch rented movies on Prime Video for free?
No, you cannot watch rented movies on Prime Video for free. When you rent a movie on Prime Video, you typically pay a specific rental fee for a limited period of time, usually 48 hours. This fee grants you access to the rented movie during that time frame.
After the rental period expires, you will no longer have access to the content unless you rent it again or purchase it. If it is a video for Prime membership, you can also subscribe to Amazon Prime and access it for free as long as your subscription exists.
Conclusion
You can download rented Amazon movies through the Amazon Prime Video app easily, but the limitations of its valid time and available devices may trouble you sometimes.
Luckily, these troubles will disappear when you download rented Amazon videos through MovPilot Amazon Prime Video Downloader. You can download them to 1080P MP4/MKV files, the most commonly used video format. Downloaded rented videos via MovPilot can be transferred to other devices and played anywhere you want.
MovPilot Amazon Prime Video Downloader
Download Amazon Prime Movies and Shows to Watch Offline Easily!