If you're seeking an efficient streaming video downloader for Netflix, Hulu, and more platforms, you must have seen recommendations about Keepstreams. Keepstreams is a powerful tool designed to support you in downloading movies and TV shows in high video and audio quality from various streaming services, providing convenience and flexibility in enjoying media offline.
So, does the app really work as well as the recommendations say? Is it safe to use? In this review, we will delve into the features, pricing, pros, and cons of Keepstreams. Hope you can decide if it is the downloader that you need after reading this review.
Keepstreams: Support Multiple Streaming Services
Keepstreams provides services for downloading videos and converting music for users worldwide. What makes it stand out among other downloaders is that it is fully compatible with multiple platforms, enabling you to quickly and easily download your favorite videos from popular streaming websites such as Netflix, Hulu, Disney Plus, Prime Video, and more.
Moreover, it also empowers you to convert and download audio from music streaming services like Spotify, Amazon Music, and Apple Music into various formats, ensuring seamless enjoyment of your favorite music on any device or operating system.
As Keepstreams is an all-in-one app that embeds more than 100 websites of popular streaming platforms, whether you want to watch ad-free Netflix TV shows, Amazon Prime videos, or Disney Plus movies, this program can fulfill your needs with simple clicks.
All videos will be saved in common MP4/MKV format, which helps get rid of download limitations imposed by streaming platforms and allows you to keep the videos forever.
Distinguished Features of Keepstreams
Keepstreams offers a range of distinguished features that set it apart:
1. High-Quality Downloads
Keepstreams is dedicated to providing an immersive offline viewing experience for users. For most videos, Keepstreams supports downloading videos in full HD 1080p. Some videos are up to 4K and 8K. It should depend on the original video quality and the platform.
2. Download videos to MP4/MKV
As movies or shows on Netflix, Hulu and other platforms are DRM protected, you don't really own the videos even after downloading them. Keepstreams is able to remove the DRM and download all encrypted videos to MP4/MKV. So, you can not only keep your beloved movies and show permanently, but also transfer them to any devices you like for offline playback.
3. Support multiple streaming services
Keepstreams' capability to download videos from multiple streaming platforms, including Netflix, Hulu, and more, grants users unparalleled convenience. So, you won't have to install so many apps and pay for subscriptions one by one.
4. Batch download videos at high speed
Keepstreams offers a high-speed download of up to 32MB/s reached on a 1GB cable modem. The downloading speed appears to be fast across all downloads. One movie will be downloaded as fast as 15 minutes depending on network traffic.
With the batch download features, you can add multiple titles to the queue and download them all at once. This feature is especially useful when downloading an entire season of TV shows.
5. Auto-download newly released episode
Using KeepStreams, staying updated with your beloved TV shows becomes effortless through the auto-download function. Just include your desired TV programs in the schedule, and all newly released episodes will be automatically downloaded.
This capability guarantees you'll never skip an episode and provides immediate access to shows without manually searching.
How to Use KeepStreams Downloader
Using Keepstreams to download videos and music is a straightforward process. Now, let's see how it works.
Install Keepstreams on the official website and launch it.
Choose the streaming platform from which you want to download.
Once you have accessed the webpage of the streaming platform, you can search for the desired video by entering keywords or titles in the search bar.
Click the video and select the desired format and quality settings.
Click "Download Now" to initiate the download process.
KeepStreams: Pricing, Pros, and Cons
Keepstreams offers a trial period for you to explore its features and check out if it suits your needs. However, you can only download three videos with the free trial. To remove limitations and get all features, here are the KeppSteams plans:
Monthly Plan: $49.99/month
Biannual Plan: $13.99/month
Annual Plam: $7.99/month
As you can see above, Keepstreams does have a lot of powerful features. Yet, no software is perfect. It also comes with obvious drawbacks. Check and weigh the pros and cons below before using it.
Pros:
Versatile support for multiple streaming platforms.
320p to 4K download quality without speed limitations.
Flexible format conversion for various devices.
Intuitive user interface.
Download subtitles and audio tracks.
Cons:
The all-in-one nature of Keepstreams' offerings contributes to its relatively high price, which might not be cost-effective for users who only frequent a single streaming platform.
According to the fraud prevention platform, Keepstreams is marked with a medium-low authoritative score of 48.8, which can be defined as doubtful, perilous, and alert. Its website is not safe to use as it may contain phishing, malware, and spam.
The Best Alternative to Keepstreams: MovPilot
For those seeking an alternative that combines affordability with powerful features, MovPilot is an excellent choice. Unlike Keepstreams, which offers a more generalized approach to downloading content from various platforms, MovPilot takes a platform-centric approach.
It provides dedicated downloaders optimized for specific platforms like Netflix, Hulu, HBO, Disney Plus, and Amazon Prime. This specialization ensures that the downloader's features are precisely tuned to the requirements and nuances of each platform, ensuring that you can capture videos and music in the best possible quality.
If you are more concerned about security and privacy issues, rest assured of this program. No malware or pop-up ads will interrupt your download process or trigger low-quality websites.
Also, it guarantees a high download success rate while retaining the metadata and subtitles associated with each platform. More importantly, the price is more reasonable.
Main Features of MovPilot Video Downloader
Download unlimited videos from Netflix, Hulu, Disney+, Amazon Prime, etc.
Support full HD 1080P resolution.
Preserve preferred language audio and subtitles.
Batch download and fast download speed (5X, 10X or higher).
Now, let's take MovPilot Netflix Video Downloader as an example and see how it works.
Step 1. Download and install the latest version of MovPilot Netflix Video Downloader and sign in with your Netflix account.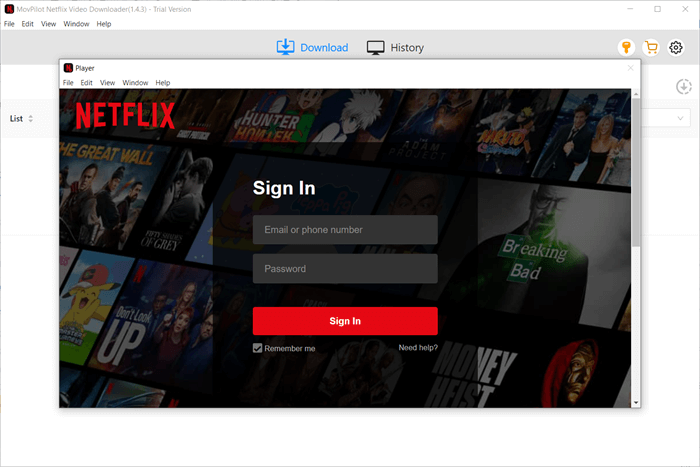 Step 2. Click the "Gear" icon and then customize parameters like output formats.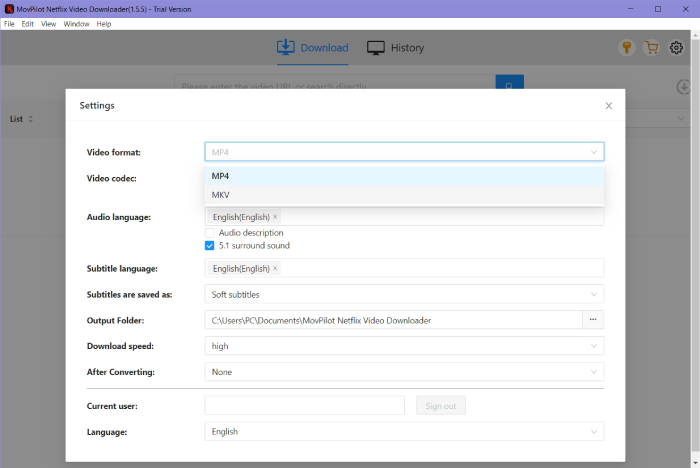 Step 3. Search the video in the box you want to download by title or paste the URL.
Step 4. Select the video and click "Download" to get started. When the download is done, go to "History" and check the result.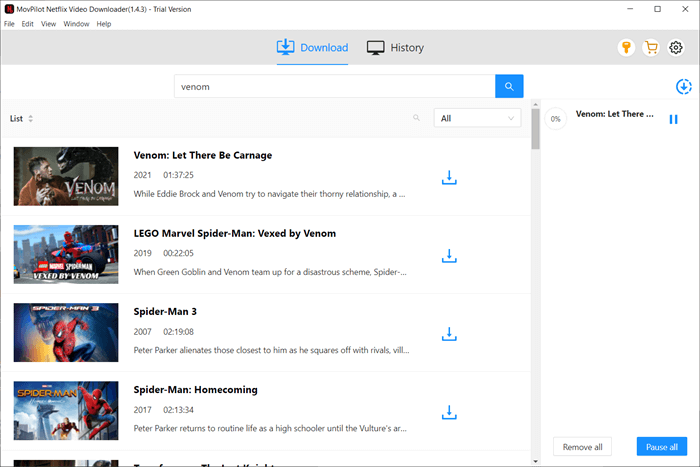 FAQs About Keepstreams
Is Keepstreams Safe?
While Keepstreams itself is designed as a tool for legitimate downloading, concerns have arisen regarding the security of its website, which has a rather low trust score evaluated by validators.
Its registrar is popular amongst scammers and its server has several low-reviewed websites. So, be careful when streaming its website to download.
Is StreamFab the Same as Keepstreams?
Some users have reported on Reddit that the functions of StreamFab and Keepstreams are the same way. All of the error messages and notifications are the exact same and the daily download limits are the exact same. Indeed, StreamFab is a product of the same company that developed Keepstreams. In other words, they are the same programs, which are developed to make more money.
Conclusion
In conclusion, though Keepstreams embedding all platforms seems to be convenient and powerful, it is less useful for users who only need one platform. What's more, its website is reported as low-confidence by validators, meaning that it is not safe to use. Therefore, if you want a budget while secure plan for downloading videos from a specific platform, MovPilot is the best alternative.
This program offers a tailored approach to content downloading, specifically designed for individual streaming platforms. You can just get the corresponding program and download desired videos in high quality at an affordable price.